Sell Your Home Before The Market Shifts!
We will sell your home for a low

1% Listing Commission!
The average real estate listing commission in the Triangle Market is 5.5%. In most cases 2.5% of that is paid out to the buy side, or Buyer's Agent. That leaves 3% of the total commission being paid to the list side, or Listing Agent. Check out our Comparison Chart below for how we compare to an average local real estate agent, and contact us to save 2% commission.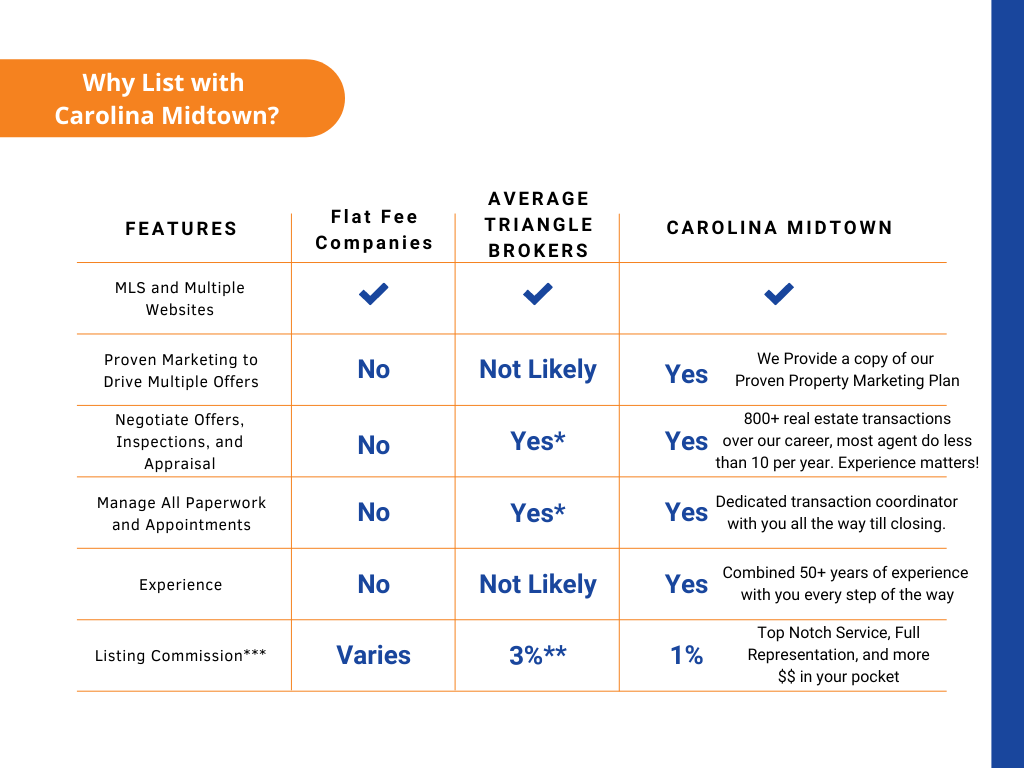 *Most agents do not have the experience or the training for negotiating and managing a transaction that Carolina Midtown has developed over the years
**Information based on data from the National Association of Realtors
*** Does not include Buyer's Agent Commissions, typically paid by seller. Listing Commission subject to $2,000 minimum.
Commonly Asked Questions
Are you a limited service company? : Absolutely not. We provide a full service of marketing, negotiations, scheduling, and managing all the paperwork.
How can you charge 2% less in listing commissions?: We like to think of it as Blockbuster vs Netflix. We do not have any of the expensive "Brick and Mortar" large office buildings that other firms need to furnish and pay for. One thing COVID has taught us, is that many of our jobs can be done remotely. Carolina Midtown brokered by eXp Realty is a cloud based brokerage and we provide more technology and services than many of our "Brick and Mortar" competitors.
Carolina Midtown's Path to SOLD
We have a proven path to getting your home SOLD for the most money and least amount of hassle. In addition to saving you money with lower commissions, we believe that communication is key to a successful relationship. Below is a summary of our path together.
Discovery
We perform an in-person visit to your home. The initial visit is to discuss a target price, highlight your home's selling features, and identify any home improvements that may need to be completed prior to going Active in MLS. Our goal is to put as much money in your pocket as possible and we will review pricing strategies and only the improvements that would return you more money.
Coming Soon
Your home will be listed in MLS as "Coming Soon" with a few teaser photos. This will start drawing buyer interest, along with our Social Media Strategy while we are getting ready to go Active. We will have professionals come to your home to capture the best photos, virtual tour, and layout a floor plan.
Active
Now that your home is ready and we have enhanced the photos and virtual tour, we are ready to go Active in MLS. Typically we will do this on a Thursday or Friday, and be ready for showings. Many times our clients plan a weekend away, while we allow showings and hold an "Open House" to generate buyer activity.
Offers
Our Marketing Plan's goal is to generate multiple offers. This is where our 20+ years of experience can make the process as smooth and stress free as possible. We will break down price, deposits, financing, contingencies, and any additional addendums to find the best possible offer. This process is important to having a successful closing.
Closing Day
Congratulations! No surprises here. We have followed the buyer's loan process, negotiated any repairs, and processed all the required paperwork on your behalf. Pick up your check and post a raving review for Carolina Midtown!!
What our clients say about us:
John was easy to communicate with and very friendly. He made the selling process smooth and stress-free. Thanks for all your help.
Jean S

Lisa sets the bar for service, both when buying and selling. My husband and I have worked with her three, going on four times in the Raleigh area.She communicates well and never leaves you wondering what the status is. If there's a potential issue, she is prepared with a recommendation in hand for how to handle it, but will always respect your final decision as the client. When buying she listens to what you are looking for, and always seems to find it, but will not rush you into any decisions (but will also let you know if it's going to sell the first day it's on the market). When selling, she works for you and manages the demands of buyer firmly yet fairly. In short, she knows her stuff!
Verd Anna P.



Working with Lisa was a lot of fun. We purchased a home with her and then used her to sell our previous one. Her knowledge of the market and experience made us feel comfortable and that we could completely trust her advice. She would point out things she saw that could be problems, but still let us make up our own minds. Plus, we knew that when we needed it, she would go to the mat for us.
Laura S.



Lisa helped me purchase my first home right out of college, later sell it, as well as sell my parent's home. Little did I know that later in life I too would become a REALTOR. Lisa's patience, care, knowledge, and level of service helped shape how I aspired to conduct my own real estate business. She has remained an inspiration, a friend, and the REALTOR that I refer all my clients moving to the Raleigh area.
Deanna E.



Lisa was a pleasure to work with, she was diligent, responsive and committed to selling my property. She staged my home, held a number of open house events, always kept me in the loop, and had a hands on approach. I would without trepidation recommend her to anyone looking to buy or sell a property.
Angela Holloway

Lisa Coleman was incredible to work with. She was professional, responsive and extremely knowledgeable. Our purchase and closing was seamless and I was so grateful for her time and patience.
Liz Simmonds
Request a Free Consultation Today